The Global Remote Internship Program provides students with the unique opportunity to gain practical 21st century skills, industry connections, and international experience through project-based learning without having to travel abroad.
Participants will work remotely from their own home and gain valuable international experience with the option of earning academic credit.
A Virtual program with real experience
After submitting an application, students will be matched with a company in the field that best corresponds to their academic background and professional goals. Projects for each internship vary by career interest and company assignment.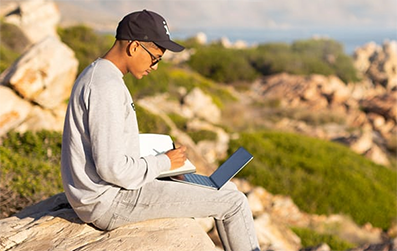 Check out our other program options.
Placements are available in a variety of fields of study and countries.
Placements for Global Remote Internships – Individual Placements
Global Remote Internship Individual placements are very similar to our In-Person Internship placements. In most cases, our established host organizations are able to provide the same type of experience for remote interns. The main difference is that you will have a more refined list of projects on your offer letter for a Global Remote Internship to ensure that there are clear career goals and structure since you will be working independently from home. You can review the Career Fields pages for more details about the types of placements.
Examples of previous individual internship projects include:
Research & Development Intern​ - Perform research on various sustainable products​, create blogs, article or social media posts related to the research, coordinate with various stakeholders on project development​
Finance Intern​ - Conduct market research to develop market strategy, compile pricing plans, assist in implementing new & existing business strategies​
Project Coordinator Intern - Manage strategic communications; assist with websites, congress schedules, speakers, and VIP information for annual conference; website development with maintenance and regular news updates
Education Intern - Create English lesson plans for non-native speakers
Tourism Intern - Develop new travel tours and marketing them to target demographics
Sports Marketing Intern - Work with a professional sports team and aiding in the development of their social media presence
INDIVIDUAL OR TEAM-BASED PLACEMENT
INCLUSIVE ADVISING & SUPPORT
PROFESSIONAL MENTOR OR CAREER COACH
PROFESSIONAL DEVELOPMENT TOOLBOX
ACADEMIC CREDIT
(optional)
The Career Readiness Course was developed with the National Association of Colleges and Employers (NACE) career-readiness framework in mind. This optional course provides you with:
Resources to aid in your professional development
Webinars to learn about networking and discovering your strengths
Tips and tricks for delivering a winning elevator pitch.
By completing the course, you can earn a digital badge to post on your LinkedIn profile.
Skill Survey Assessment Tool
Premiere access to SkillSurvey's Career Readiness Project:
Access self-assessment tools and supervisor surveys that allow you to measure the skills you gain during your internship
Compare yourself to entry-level job applicants from over 100 different institutions around the U.S.
Analyze gaps and areas for improvement in 8 core areas of career readiness, providing a roadmap for your development
An individualized advising session that covers:
Resume and cover letter improvements and interview techniques
Ongoing advising/coaching before, during, and after your internship to assist you with any challenges and support your learning journey
On-Site Workshops and Support
Goal-setting tools and activities:
Professional development workshops and activities
Personal internship supervisor
Frequently Asked Questions